I hope you enjoy the artwork in these pages.  
We are proud to announce 
the children's book that will teach your child to let all their colors shine:  
Rainbow Finds Love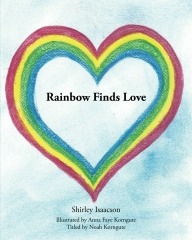 This delightful read-aloud book for ages 3 and up tells the story of a rainbow whose colors are ridiculed by a colorless cloud. One by one the rainbow rejects the vibrant colors that make it who it is – until it almost disappears entirely! This simple tale eloquently shows how the ridicule of others can tempt us to give up that which is the source of who we are. 
Rainbow Finds Love
was inspired by the true story of a boy who wore his beloved rainbow socks to school. After being taunted by an older boy he never wore them again. Easily understood by young children, it has a simple and powerful message for all ages.
written by Shirley Isaacson 
illustrated by Anna Faye Korngute
Titled by: Noah Stone Korngute
Purchase this book at 
Createspace, an Amazon company at:
https://www.createspace.com/4448167